Continued Restoration & New Faces on the Estate
05.05.2021
We began the restoration of our walled garden in the summer of 2019 and made excellent progress on the formal portion of the garden. Unfortunately, due to COVID-19 we had to pause the remaining restoration and focus on simply maintaining the garden throughout the pandemic.
As we are able to return to work on a full time basis, we are now looking to complete our walled garden and add some new faces to the estate.
Our raised vegetable beds and polytunnels are underway and we are looking forward to producing larger quantities of fresh fruit and vegetables for our visitors to enjoy. We have also incorporated areas for wild flowers and cut flowers, not only for the enjoyment of their beauty but also for the natural ecosystem they help to support.
Honey bees are an important part of the ecosystem and we are excited to have our own bee hives on the estate. Visitors will be able to purchase the honey along with our fresh produce. Another new face on the estate will be our British Saddleback pigs, joining us in the Spring to help clear some woodland around the walled garden and other areas of the estate. We have had these wonderful pigs on the estate before and we are excited to welcome them back!
Other future plans include the completion of our trout pond and the grand opening of our shop!  Stay tuned for further updates and pictures as we continue to improve and restore Craigsanquhar Estate.
Picture caption: One of our previous Saddleback pigs helping clear the ground in the walled garden for the current restoration.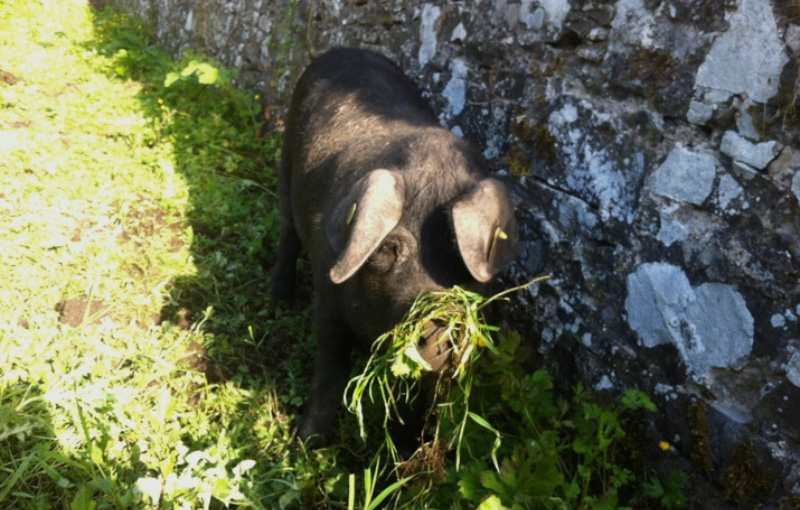 Share this
BACK TO NEWS